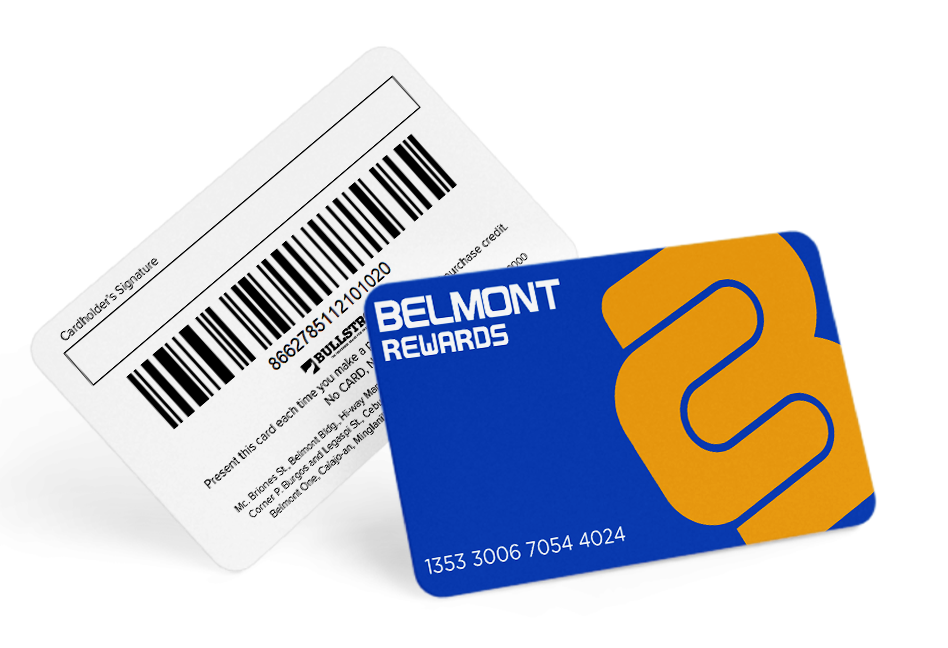 Belmont Hardware Depot. Business Advantage Reward

Terms And Conditions
MEMBERSHIP
1. Membership is open to all Belmont Shoppers.
2. No Minimum or initial purchase requirement.
3. Interested individuals must fill up the application form. Application forms are available at the Customer
Service Desk.
4. Submit application forms at the Customer Service Desk or drop them at the designated drop box.
5. Members will be given a Belmont Advantage Business Reward card with their designated membership number Cards can be claimed at the Customer

Service Desk within 3 to 5 business days upon submission of application.
6. The membership fee is Php 150.00 to earn points.
7. Membership can be extended up to three sub-accounts. Subaccount purchases will be added to the main account.
EARNING POINTS
1. Earn one points for every peso spent.
2. Any centavo value will be dropped in calculating points. Points are automatically computed and updated right after every purchase.
3. For points to be credited to the member's account, the Belmont Business Reward card must be presented upon payment. No card no point credit.
4. Purchases made during the processing of applications or before the release of the card will be credited as soon as the card has been released. The
member should keep all the receipts and present them to the Customer Service Desk for point validation.
5. Wholesale purchases with wholesale discounts are not included in the earning of points. Promo items and items which were given special/privilege
discounts, consumable items such as Abrasive, Resin chemicals are also not included in the computation of points.
6. All payment made applies in the point computation - Cash, Credit Card, and On-date checks.
7. Points earned from items returned or replaced will automatically be forfeited.
REWARD COMPUTATION
1. Rewards will be available upon reaching 15,000 points and every succeeding 5,000 points earned.
2. Rewards are redeemable only as discount and at the time it is available.
3. Rewards can be redeemed at any cash counter only.
4. Rewards earned can only be claimed by the principal/main account holder.
EXPIRY
1. Belmont Business Reward membership is valid for 2 years.
2. Cardholders will be given one(1) month allowance to renew their membership after its expiry, otherwise, the account will be canceled and all points and
rewards earned will be forfeited.
3. Accounts of members who have been inactive for six months will be canceled and all points reward earned will be forfeited.
RENEWAL

1. Members whose account has expired and wishes to renew their membership should apply for renewal at the Customer Service Desk and fill out a
membership renewal form.
2. Upon renewal, the member retains the old Belmont Business Reward card and uses the same account number. The renewal of the card entitles the
member to extend its account to another 2 yrs.
3. Points and rewards of the membership which have been renewed will remain and can be used after the renewal.
4. Membership renewal is FREE unless the customer requested a replacement card, the member should pay P50.00 as a replacement fee and should
surrender the old card to the Customer Service Counter.
5. Faulty cards should be surrendered to the Customer Service Desk for replacement. Replacement is for free.
6. Replacement for lost and damaged cards will be charged P50.00 as a replacement fee.
7. In cases of a lost card, the member will be issued a new card with a new account number, and all points and rewards earned on the old card will be
transferred to the new card.
OTHER CONDITIONS
1. Points reflected in the Belmont Hardware Depot. records and the member's card are considered official.
2. Membership in the program may be revoked at any time should abuse, failure to comply with the terms and conditions, or any misinterpretation
prejudicial to the program takes place.
3. The member is solely responsible for the use of the Belmont Advantage Business Reward Card, whether it be used by the member or by a third party.
4. Belmont Hardware Depot. reserves the right to cancel, modify or restrict the loyalty program at any time at its sole discretion and without prior notice.
5. In the event that the program is canceled, cardholders will be notified accordingly and all points and rewards earned must be used up within 60 days
from the date of cancellation.
6. Belmont Hardware Depot.'s failure to enforce a particular term, condition, or guideline does not constitute a continuing waiver of the term and condition.
7. All cards issued are non-transferable.
8. Belmont Business Reward members are subject to these Terms and Conditions and are deemed to have accepted these terms and conditions upon

signing the Belmont Business Reward application form.